Saint Julien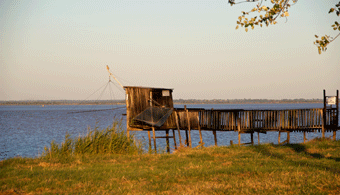 "Here is where I and many others come to find the essence of red Bordeaux. Its all about balance…" Oz Clark.
Saint Julien lies north of Margaux. It comprises the communes of Saint Julien and Beychevelle. The soil is mainly gravel with gravel subsoil.
Jancis Robinson says Saint Julien is "the commune for wine connoisseurs who seek subtlety, balance, and tradition in their red Bordeaux. …The wines embody all the virtues of fine, long-lived blends of Cabernet and Merlot grapes, being deep coloured, dry, digestible, appetizing, persistent, intriguing, and rewarding."
Saint Julien does not include any first growth properties, as classified in 1855. However, nearly 80% of this small appellation (899ha) is made up of classed growths.
A well-maintained fourth growth property, such as Beychevelle, producer of Amiral de Beychevelle, with a consistent approach to wine making might produce a higher quality wine than a first growth resting on its laurels.
The wines of Saint Julien are full bodied and elegant with cedar wood perfume and blackcurrant fruit. With soft edged tannins the wines can be enjoyed from six years of age up to 10 or more.