Jurançon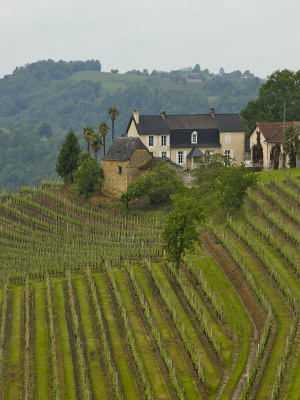 The Jurançon region is one of the most beautiful in France. Rolling green hills, relatively unpopulated and stunning views to the nearby snow-capped Pyrenees Mountains. The ripening period in autumn is long and cool, lending itself to producing late picked white wines.
Petit and Gros Manseng are the principal varieties of the wines of Jurançon. Mainly white wine is produced both in a dry (sec) and a sweet style (moelleux). Moelleux, can range in sweetness from a semi-dry (demi-sec) to ultra-sweet. The sweetness often related to the lateness of the picking. Australians often think of sweet wines as dessert wines but Jurançon wines are perfect as an aperitif. Light in texture, and finely balanced with acid they are perfect with foie gras/pates or cheeses.
DiscoverVin™ is confident that these wines will surprise and delight you. Above all the wines that we present are well made good value wines.